Nothing enhances an outdoor living space like the beauty of natural stone. Durable and beautiful, our natural stone is available in a myriad of finishes, colors, patterns and shapes. As a maintenance-free material, natural stone is the perfect fit for patios, pathways, pools, porches. Let your imagination roam free as you design that perfect outdoor space for you and your guests.
Create charming patios that invite intimate gatherings and enjoyable conversation. Make lasting memories when hosting friends and family in your outdoor cooking area, during holiday get-togethers and relaxed summer nights. Enjoy stories and s'mores with loved ones by your stone veneer covered fire pit. Turn that dirt path into a beautifully, enchanting walkway. When you work with Welsh Stone Supply, the possibilities are endless.
Whether you are selecting stone for your horizontal or vertical surfaces, our team of experts is here to assist you in making your dream home a reality. We offer unique and eye-catching customizations that will enhance your home while adding value for years to come.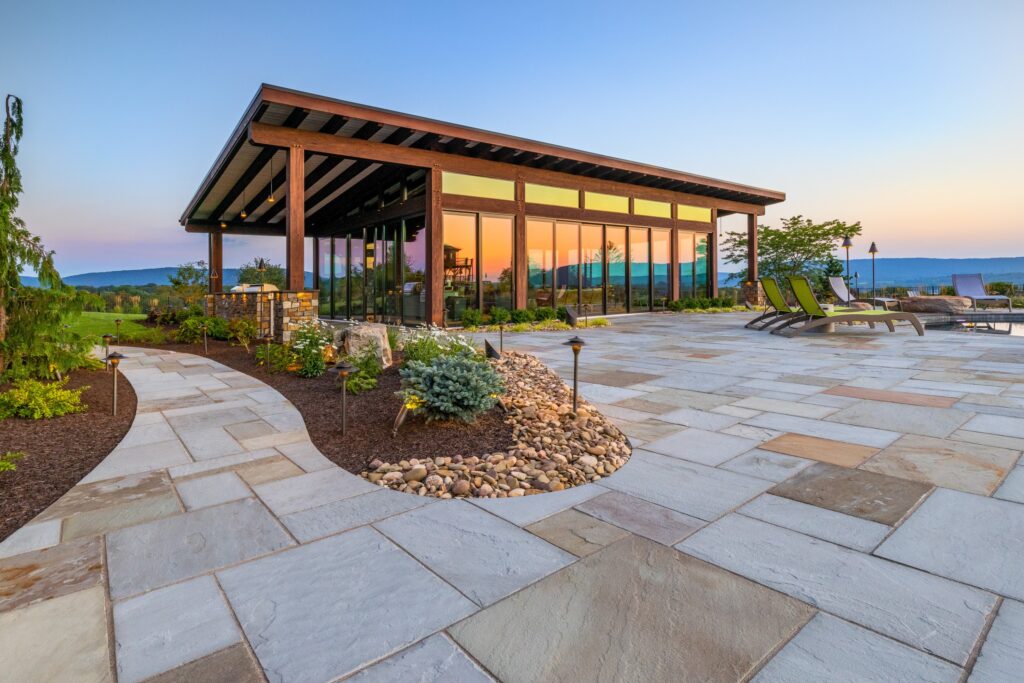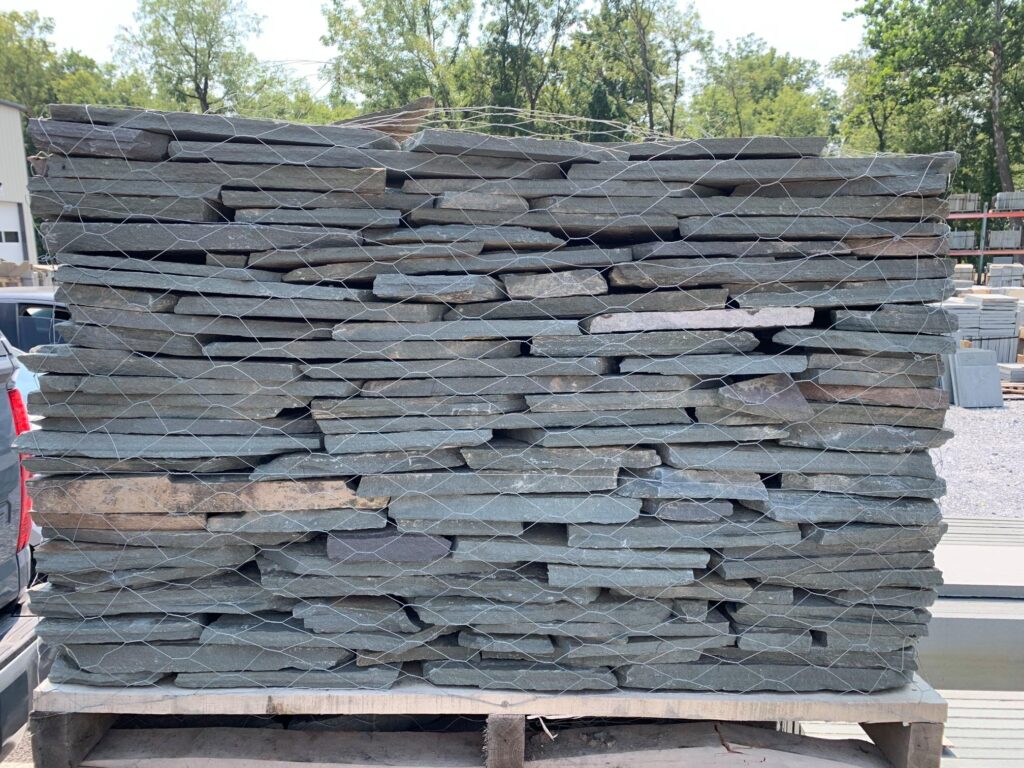 Understanding Stone
When it comes to designing your outdoor space with quality stone, you have endless options, combinations, and styles available to you. Understanding how to think about your stone project will make designing your outdoor space an enjoyable process. At Welsh Stone Supply, we have everything you need to transform for your patio, porch, pathways and pool. We also supply stone for outdoor cooking areas, fire pits, walls, driveways, steps and more.
Deciding on which stone to use can be overwhelming if you don't know where to start. We make it easy to pick out materials, colors, and finishes for your outdoor designs. Our knowledgeable staff is always available to help guide you on the perfect layout for your stone.
We recommend looking through our gallery of work to get inspiration and see the full spectrum of colors our natural stone offers. Finalize your dreaming, as you scroll through each photo; and together with Welsh Stone Supply reality will come into view.
How to begin your stone selection journey
First, you will want to focus on one application at a time. Are you selecting stone for a patio? Do you need to replace your walkway or driveway? Welsh Stone Supply will guide you as you think about the space you are resurfacing. From there you will select the materials best suited for your project needs.
For each application you will have several stone types and colors to choose from depending on what you are remodeling or building. We suggest choosing a color family that you like, and then focussing on finishes and textures after. Part of the beauty of natural stone is its variety in color and pattern. By looking through pictures of large areas, you can better visualize what your outdoor living space will look like.
Start with your stone application
Starting with your desired stone application in mind will simplify your decision making process. It can help you stay more focused and organized because you will understand which stone options you have based on how they will be applied. While the possibilities of stone applications on your home projects are truly endless, you will most likely be starting with one of the following:
Patio
Porch
Pathway
Pool
Driveway
House siding
Pillars
Steps
Fire Pit
Outdoor Cooking Area/ Kitchen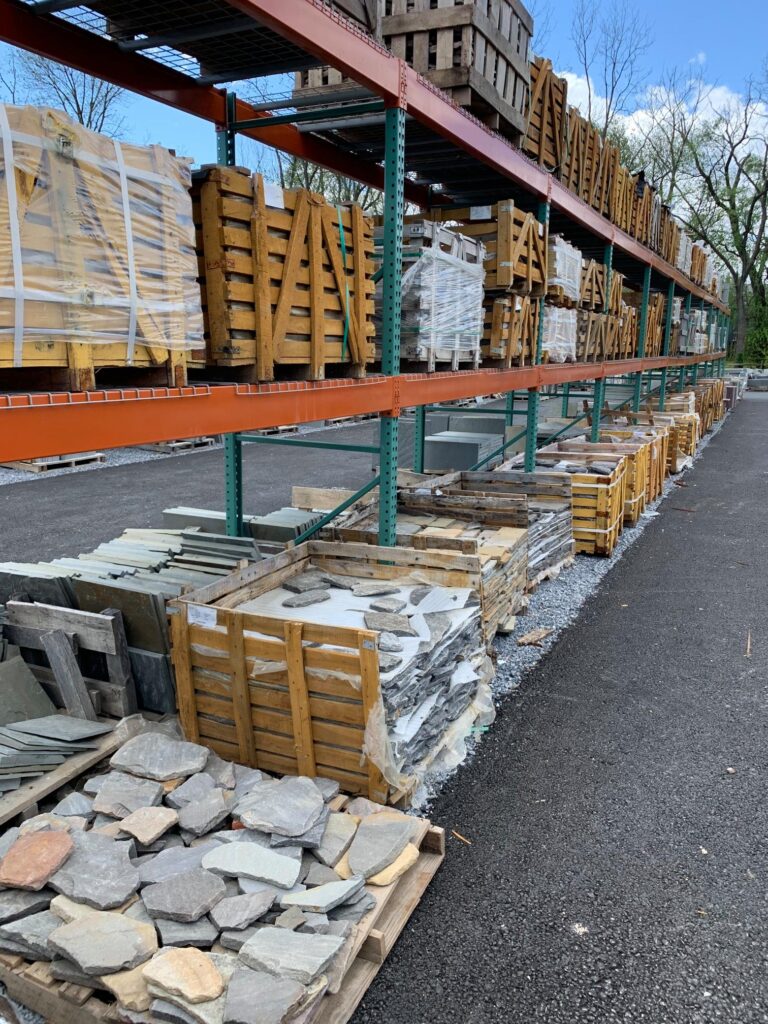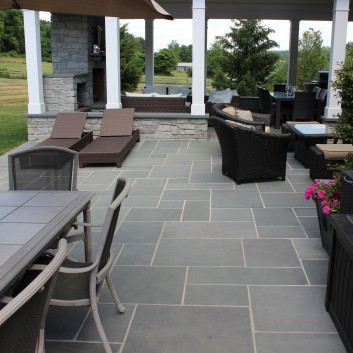 Stone Finishes
At Welsh Stone Supply we offer popular finishes which are Thermal and Rustic Natural Cleft. The two are vastly different in look and feel so be sure to look through our gallery for ideas and comparisons.
Thermal Edge gives you a clean and precise edge which brings in the smooth feel and organized cohesive look. Think high end, minimalistic and intentional.
Rustic Natural Cleft finish provides a more natural look which emulates real stone that you would see out in nature untouched by man or machine. Think country style homes, spanish style and relaxed.
Next, decide which stone product you need based on the application you are starting with. Visit our Natural Stone page for more information on each stone type and the possible applications. If you aren't sure which stone type to use for your desired application, please feel free to contact us directly with your project details or invite your contractor to help you determine which type of stone to go with.
Choosing your color spectrum
Once you decide on all of the applications you are selecting stone for, you can begin to think about what color family you would like to use for each. Natural stone carries a color spectrum which includes multiple layers of colors weaved throughout and varied on different pieces. In order to make sure you select a stone color you love, look through our gallery to see how a large area looks in the stone you are considering. Our color swatches are a great place to begin, but no two natural stones are exactly the same.
You can narrow your choices down by starting with these 4 main color categories: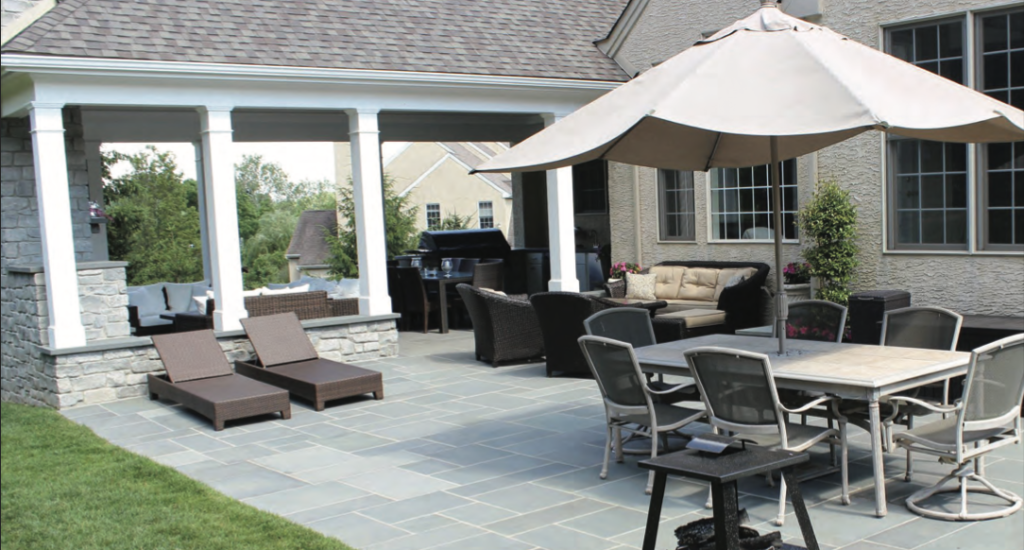 Blue Tones
(Bluestone with blue spectrum)
Allow the sun to cast its shadows across the clefts of the deep blues and grays of Blue Select stone. Whether you choose a more refined thermal top or the rustic natural cleft top, you won't be disappointed with this local favorite.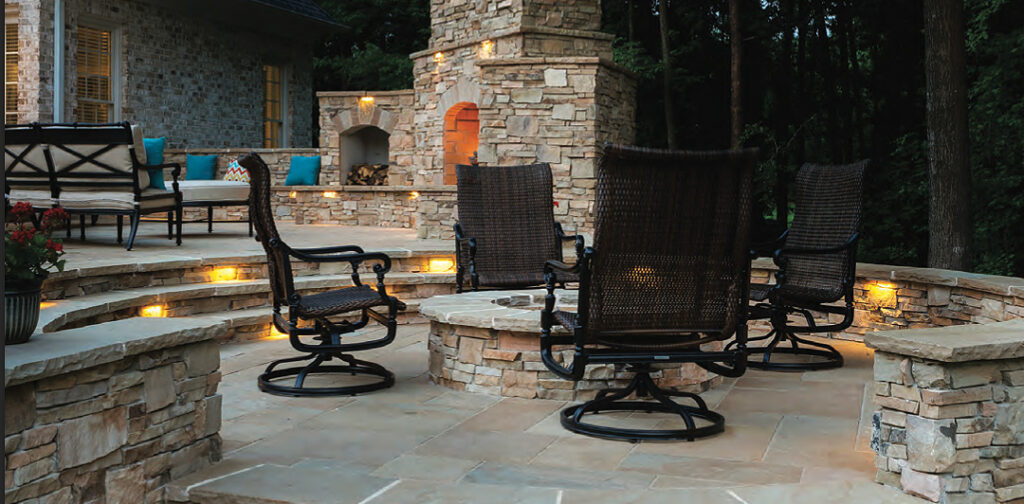 Earth Tones
For those that love a warmer feel to their stone design our variety of Brown Color Spectrum Stone will be the best option. Our popular Buff color is only available in a Natural Cleft finish. If you would like to stick with earthy brown spectrums but prefer a smooth finish, consider our Brown Stone which comes in a Thermal finish. For our top quality stone with a smooth finish in the Brown Spectrum consider Travertine.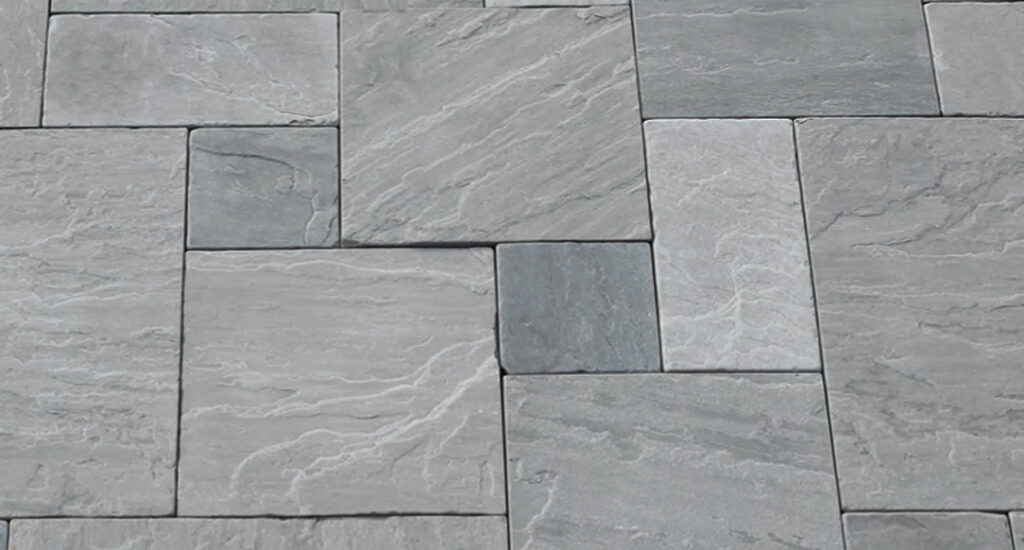 Grey Tones
If you're looking for a fully grey stone without hints of blue then you will want to select from our grey color spectrum like Castle Grey. The fully grey line of Pattern Stone only comes with a Natural Cleft surface so make sure that fits with your desired use and final look. If you want to stay in the fully grey spectrum, but prefer a smooth surface, consider Marble.
Additional color options
Our Lilac stone is a beautiful unique Bluestone that is available for special order only, contact us for details. Our Marble and Travertine stones have additional colors and finishes available including white, cream, silver and gold spectrums that you can see here.
Once you decide which color category you prefer, consider which type of finish and style you want within that color option. Not all finishes and patterns are available for each color spectrum. If you have a specific stone material you prefer, you may want to select that before your color to make sure it is available.
Welsh Stone Supply carries 6 different patterns of stone. The stone pattern is defined by the type of stone you are selecting. Each pattern type has multiple color and finish options as well as different sizes, shapes and cuts. If you have a certain type of stone pattern in mind, then you will want to select your pattern before choosing your color to make sure your preferred stone pattern is available in the color you want.
Our 6 Stone Patterns are:
Shop Pattern Stone
Ready To Get Started?
Once you find the right stone options for your home improvement designs, visit our contact page to connect with a Welsh Stone Supply specialist. Our team is here to answer any questions you have and to guide you through the stone ordering process. If you are working with a contractor, feel free to share your selections with them and have them reach out to us on your behalf. You can reach us by phone, email or in person at our new location in Gordonville PA.
Contact Us